Los Angeles Express
Steve Young's Team
Signal caller Steve Young
The Express were an up-and-down team in their three years. In 1983, they finished 8-10 with a lousy running game and Mike Rae and Tom Ramsey splitting time at quarterback. They improved to 10-8 in 1985 and the team went all the way to the Western Conference Final. A standout offensive line gave new quarterback Steve Young plenty of time to get the ball to JoJo Townsell and running back Kevin Nelson. They had a great pass rush, led by tackles Lee Williams and Eddie "Meat Cleaver" Weaver, who both topped 10 sacks. In 1985, however, the roof caved in. The team wound up without an owner and the league itself had to pick up the franchise. Fans stopped coming to the games, and the roster was so plagued by injuries that Steve Young had to start a game at running back !
Best Player QB Steve Young Home Field Los Angeles Coliseum (1983-85), Pierce College Stadium (last game of 1985) Coaches Hugh Campbell (1983) John Hadl (1984-85)

Houston Gamblers
Jim Kelly's Run and Shoot Offense
Led by coach Jack Pardee, the Gamblers' run-and-shoot offense dominated the league's proudest defenses. Jim Kelly was the signal caller with an arsenal of receivers including Ricky Sanders, Clarence Verdin, Richard Johnson and Gerald McNeil. In 1984, Kelly set a professional football record by throwing for 5,219 yards and in 1985, threw for over 4,600 yards and 39 despite missing the last few games of the season. Often forgotten was running back Todd Fowler, with 1,003 yards in 1984. Despite their amazing offense, the Gamblers were knocked out of the playoffs in the first round in 1984 and in 1985.
Best Player QB Jim Kelly Home Field AstroDome Coach Jack Pardee
Memphis Showboats
Pepper Rodgers and the Minister of Defense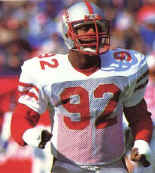 Reggie White recorded 33.5 sacks in two USFL seasons.
The Showboats made their debut in 1984 and were one of the league's more successful franchises. In their first season, they went 7-11 despite great play from Reggie White. They turned things around in 1985, thanks in large part to an improved passing game that featured a pair of 1,000 yard wide outs: Derrick Crawford and Greg Moser. In both seasons they were led by animated coach Pepper Rodgers.
Best Player DE Reggie White Home Field Liberty Bowl Coach Pepper Rodgers
New Jersey Generals
Donald Trump's Free-Spending Franchise
The Generals were the first USFL club to field a big star when they pried Herschel Walker away from the University of Georgia a year early and signed him signed prior to the 1983 season. Despite Walker's 1,812 rushing yards, the rest of the team struggled and finished 6-12. That all changed when real estate tycoon Donald Trump purchased the team and spent big bucks on quarterback Brian Sipe, safety Gary Barbaro and others. They went 14-4 and made the playoffs, but lost to the Stars. In 1985, Trump opened his wallet again, signing Doug Flutie. Doug wasn't all he was hyped up to be however, and they missed the playoffs at 11-7. Herschel Walker set a sensational year, rushing for an eye-popping 2,411 yards and 21 touchdowns with a 5.5 average.
Best Player RB Herschel Walker Home Field Giants Stadium Coaches Chuck Fairbanks (1983), Walt Michaels (1984-85).
Jacksonville Bulls
The Best-Supported Team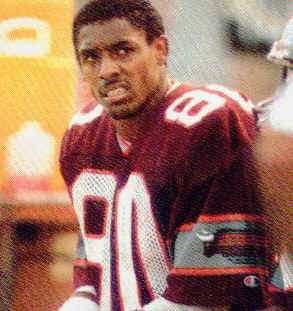 Gary Clark played for the Bulls before gaining Super Bowl glory with the Washington Redskins.
Despite a so-so team and a lack of big-name players, the Bulls topped the USFL in attendence in both of their seasons and set the record for the largest crowd in a game against the Generals. With the addition of college superstar Mike Rozier, they got to .500 in the 1985 season. Alton Alexis gathered over 1,000 receiving yards and Don Bessillieu picked off seven passes for the second consecutive season.
Best Player S Don Bessillieu Home Field Gator Bowl Coach Lindy Infante

Michigan Panthers
Bobby Hebert's Courageous, Exciting team
Merged with Oakland Invaders in 1985
Sack master John Corker
After a slow start in 1983, the Panthers won 12 games and captured the division crown because of two victories over the Chicago Blitz (who alos went 12-6). They were led by receiver Anthony Carter, quarterback Bobby Hebert and John Corker, who recorded 28 sacks, more than anyone else in pro football history. After beating the Invaders in the playoffs, they went on to the Championship, where they shocked the Philadelphia Stars to capture the USFL title. The next year, they slumped in the mid season, but rallied late to make the playoffs. In a three-overtime marathon, they were eliminated from the playoffs by Los Angeles.
Best Player QB Bobby Hebert Home Field Silver Dome Coach Jim Stanley

Philadelphia/Baltimore Stars
Two (Almost Three) Time Champions
Despite so-so support from their fans, the Stars were the dominant team of the USFL. After losing the 1983 Championship to the Panthers, they came back with a vengeance.They were led by sensational runner Kelvin Bryant, quarterback Chuck Fusina and a tough group of defenders nicknamed the "Doghouse Defense." They posted a 16-2 record, the best in the history of the league and walloped the Wranglers to win the championship. After moving to Baltimore for the 1985 campaign, they won six fewer games but put it all together in the playoffs and captured their second straight title, this time over the Oakland Invaders.
Best Player RB Kelvin Bryant Home Field Veterans Stadium (1983-84), Byrd Stadium (1985) Coach Jim Mora

Oakland Invaders
Bringing Football Back to Oakland
Merged with Michigan Panthers in 1985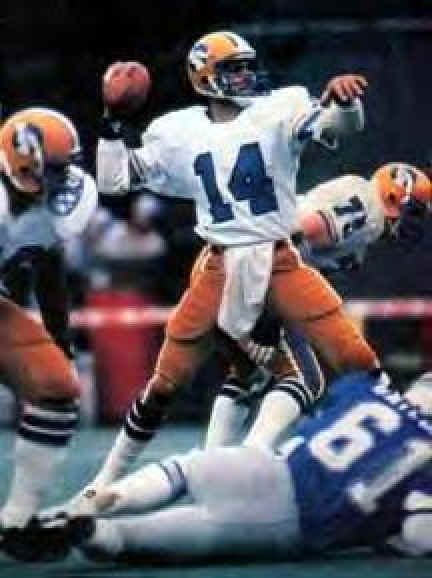 Strong-armed quarterback Fred Besana
After the Raiders left for LA, the Invaders moved into Oakland to the delight of Oakland's pigskin fans. (I assume Al Davis was pretty ticked by the team's name choice.) They finished 1983 with a respectable 11-7 record, led by quarterback Fred Besana, and two former Raiders: Raymond Chester and Arthur Whittington. They stumbled out of the gates in 1984, but went 7-2 in the season's second half under interim coach Chuck Hutchinson. They carried that momentum over into the 1985 season. After a merger with the Michigan Panthers, they got all the way to the championship, only to lose by four points to the Baltimore Stars.
Best Player QB Fred Besana Home Field Oaklnd Alameda County Coliseum Coaches John Ralston (1983-84), Chuck Hutchinson (1984), Charlie Sumner (1985).

San Antonio Gunslingers
How Not To Run A Team
Rick Neuheisel topped 3,000 yards in 1985.
The team's owner, Clinton Manges, had a lot of money from the oil industry, but when oil prices fell, so did his finances. This resulted in late paychecks, a lack of sufficient team offices, and unhappy players. Their dilipidated home, Alamo Stadium, was known to fans as "The Rockpile". Somehow, the players kept their spirits up and finished with records of 7-11 and 5-13, which were respectable considering the circumstances. The "Bounty Hunter" defense, which employed 5 defensive backs, and quarterback Rick Neuheisel ( before he was in NCAA pools ) kept them in most games.
Best Player QB Rick Neuheisel Home Field Alamo Stadium Coaches Gil Steinke (1984), Jim Bates (1985), Gil Steinke (1985).

Tampa Bay Bandits
Big Play Football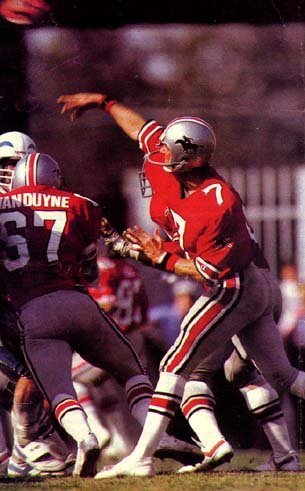 John Reaves had no shortage of weapons
The Bandits were one of the USFL's most entertaining teams and as a result, one of its most popular. Steve Spurrier's team was an offensive juggernaut, featuring quarterback John Reaves who regularly put up huge passing numbers, courtesy of big play receivers Danny Buggs, Eric Truvillion and Larry Brodsky. On the ground, they had an excellent running back tandem in Gary Anderson and Greg Boone. In 1984, the year the Bandits went to the championship, they both exceeded 1,000 yards. The defense gave up a lot of points, but the offense usually scored even more.
Best Player QB John Reaves Home Field Tampa Stadium Head Coach Steve Spurrier

Oklahoma/Arizona Outlaws
Doug Williams' Team
Merged with the Arizona Wranglers in 1985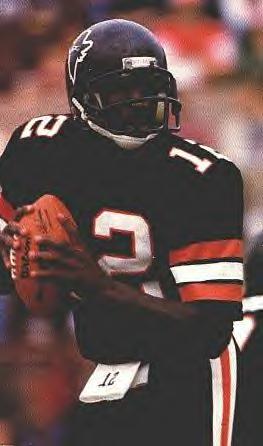 Doug Williams posted two 3,000 yard seasons.
The Oklahoma Oulaws stormed out of the gates in 1984, begining at 6-2 and tied for first place. The it all fell apart and they lost every game from then on to finish at 6-12. Quarterback Doug Williams and wide out Al Williams were both bright spots, though. The next year, they merged with the Arizona Wranglers and moved to Phoenix. The improved team finished at 8-10, featuring a thousand-yard runner in Reggie Brown and defensive tackle Dave Tipton's 14 quarterback tackles.Williams also improved, throwing for 3,673 yards and 21 scores. Two years later, he would guide the Redskins to the Super Bowl along with former USFLers Gary Clark and Ricky Sanders.
Best Player WR Al Williams Home Field Skelly Stadium (1984), Sun Devil Stadium (1985) Coach Woody Widenhofer (1984), Frank Kush (1985).

Denver Gold
A Cost-Conscious But Well-Planned Team
Bill Johnson led the resurgance of the Denver offense.
The Gold didn't spend a lot of money, but built their team well and drew good-sized crowds. After two average seasons, the Gold broke out in 1985. Quarterbacks Phil Gagliano and Vince Evans split time at quarterback and led a potent offense that featured star runner Bill Johnson, who scored 15 touchdowns with a 5.9 average and two thousand-yard receivers in Mark Lewis and Leonard Harris. The defense, led by pass rushers Calvin Turner and Bruce Thornton, improved as well. However, they were crushed in the playoffs by Memphis in what would be their last game.
Best Player WR Leonard Harris Home Field Mile High Stadium Coaches Red Miller (1983), Charley Armey (1983), Craig Morton (1983-84), Mouse Davis (1985).

Chicago Blitz
First to Worst
Switched players with the Arizona Wranglers in 1984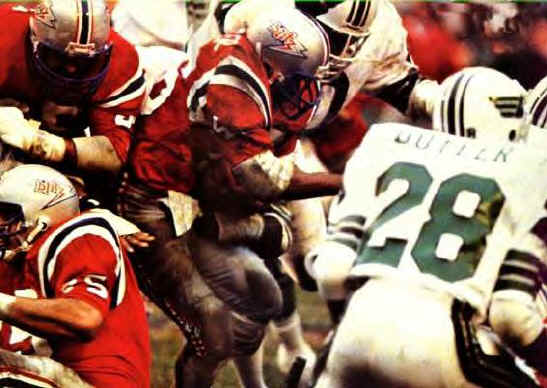 Tim Spencer picks up tough yards against the Feds.
George Allen's Chicago Blitz had a successful 1983 campaign, winning 12 games and a playoff spot. Quarterback Greg Landry led a veteran squad that featured a pair of thousand yard rushers in Tim Spencer and Kevin Long, Trumaine Johnson at wide receiver, down linemen Joe Ehrmann and Junior Ah You, and Luther Bradley who picked off twelve passes. However, they switched teams with Arizona in 1984 and they fell to 7-11 with all of the Wranglers' players. Fans stopped coming to the games and in 1985 the team was gone altogether.
Best Player WR Trumaine Johnson Home Field Soldier Field
Coaches George Allen (1983), Marv Levy (1984)
Birmingham Stallions
Another Well-Liked Team
After a .500 1983 campaign, the Stallions won the Southern Division title in 1984. Leading the team were Jim Smith and new acquisitions Cliff Stoudt and Joe Cribbs. Chuck Clanton picked off ten passes and returned three for scores. In 1985, they made the playoffs again but lost in the semifinals to Baltimore. Clanton had an even bigger season in '85, intercepting 16 passes and Smith caught 20 touchdowns. Rollie Dotsch was named Coach of the Year for the team's inspired play.
Best Player WR Jim Smith Home Field Legion Field Coach Rollie Dotsch

Arizona Wranglers
The Two Wrangler Teams
Switched players with the Blitz in 1984; Merged with Oklahoma Outlaws in 1985 to become Arizona Outlaws
Kevin Long runs during the 1984 title game.
After a 4-4 start the Wranglers lost the rest of their games to finish 1983. The main reason was that they scored the fewest points in the league and tied for the most given up. In 1984, Wranglers owner Jim Joseph traded teams with Chicago owner Ted Diethrich and the Wranglers were suddenly a good team, having all of Chicago's former players. Veteran Greg Landry threw for well over 3,000 yards, 1,268 of them to Trumaine Johnson. Tim Spencer and Kevin Long both rushed for over 1,000 yards. On defense, John Lee tallied a staggering 20 sacks. They made it all the way to the championship but lost 23-3 to the Stars. Before the '85 season began they merged with the Oklahoma Outlaws and became the Arizona Outlaws.
Best Player WR Trumaine Johnson Home Field Sun Devil Stadium Coaches Doug Shively (1983), George Allen (1984).

Washington Federals
Lovable Losers
Became the Orlando Renegades in 1985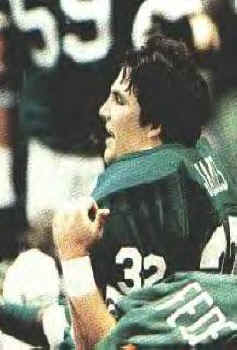 Craig James' USFL career was plagued by injuries.
Guess totaled 16 picks in his two years with the Feds.
The Federals were the Cincinnati Bengals of the USFL. But it wasn't just that they lost, it was how they lost. In 1983, they lost 13 of their first 14 games on a 50-yard field goal, a missed 33-yarder, a 99-yard touchdown pass, a long touchdown run, and a quarterback sneak that came up one yard short. On paper, the Feds got a little better in 1984. They got a thousand yards out of running back Curtis Bledsoe, Joey Walters caught 98 passes for 1,410 yards and Mike Guess registered 11 interceptions. However, they won just three games, one fewer than the year before, thanks in large part to a porous defense and a lot of turnovers from the offense. As you might imagine, the size of the crowds was not a pretty sight. In 1985, the club moved to Florida and became the Renegades.
"Hi Mom, we're number...uh...uh..."
- a Federals player
Best Player WR Joey Walters Home Field RFK Stadium Coaches Ray Jauch (1983-84), Dick Bielski 1984).

Orlando Renegades
At Least they were Better than the Feds Were the Washington Federals from 1983 to 1984.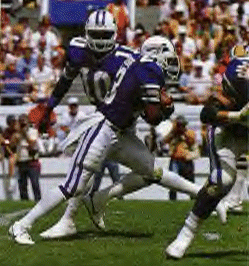 Reggie Collier hands off to Curtis Bledsoe.
The Orlando Renegades finished just 5-13 in their only season, but that was an improvement over their rwo seasons as the Federals. After dropping their first six contests, they won five of their last twelve. Their offense was competetive, led by scrambling QB Reggie Collier and half back Curtis Bledsoe. However, their defense was atrocious, giving up the most points in the USFL. Victor Jackson and Jeff George both picked off eight passes, though. They had a funny mascot who would be considered politically incorrect nowadays.
Best Player QB Reggie Collier Home Field Citrus Bowl Coach Lee Corso

Pittsburgh Maulers
Not Exactly the Steelers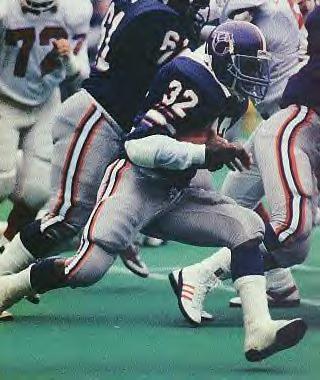 Walter Holman gains ground.
The Maulers were an expansion team introduced in 1984. They played in Three Rivers Stadium but did nothing to remind the local fans of their beloved Steelers. Despite the presence of Heisman winner Mike Rozier, they struggled through their one and only season, finishing a lowly 3-15. Rozier was plagued by injuries and failed to top 800 yards. Greg Anderson, who managed 994 receiving yards and Sam Clancy, who picked up 16 sacks, were some of the few bright spots. They couldn't find a new home when the USFL announced its move to the fall, and the franchise folded.
Best Player WR Greg Anderson Home Field Three Rivers Stadium Coaches Joe Pendry (1984), Ellis Rainsberger (1984).
To view the Boston/New Orleans/Portland Breakers' bio click on "Breakers Football" in the main menu.