"Ride The New Wave"
Boston/New Orleans/ Portland Breakers
The Most Well-Traveled Team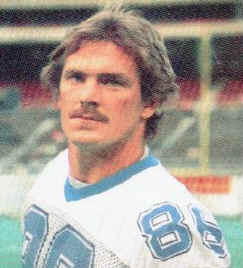 Dan Ross shares the record for most receptions in a Super Bowl (11) with Jerry Rice.
Buford Jordan was the standout of the New Orleans backfield in 1984.
The Breakers began in Boston in little Nickerson Field, which held just 20,500 people. Dick Coury's club almost made the playoffs with John Walton at quarterback and Charlie Smith gaining over 1,000 receiving yards. Linebacker Marcus Marek led a solid defense. They couldn't find a better field in New England and headed for the New Orleans Superdome in '84. Despite Buford Jordan's 1,276 yards and Frank Lockett's emergance as a big-play receiver, they fell to 8-10. When the league announced they were moving to the fall in a year, the Breakers had to vacate the Superdome and wound up in Portland, Oregon. Despite an anemic offense, the discipline and toughness of Dick Coury's squad gave them respectability.
Best Player QB John Walton Home Field Nickerson Field (1983), SuperDome (1984), Civic Stadium (1985) Coach Dick Coury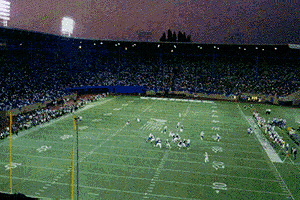 Civic Stadium in Portland
Dick Coury, coach of the year in 1983
Cheerleaders: The Heart Breakers
My Breakers' 1984 trading card set

Nickerson Field
My Breakers 1985 trading card set