Stars of the United States Football League
Jim Kelly
Before becoming the embodiment of Super Bowl futility, Jim Kelly was the quarterback of the Houston Gamblers. He led Jack Pardee's innovatuive run-and-shoot offense with receivers like Ricky Sanders, Richard Johnson, Clarence Verdin, and Gerald McNeil. In 1984, he threw for an eye-popping 5,219 yards and tossed 44 touchdowns. ( The same year Marino had 5,084 and 48 in the NFL ) Despite missing a few games due to injury in 1985, he still managed 4,623 yards and 39 scores. Not bad.
Steve Young
Steve Young, one of the most efficient passers in history, got his start in the USFL with the LA Express. He had two decent 1984 campaign, throwing for 2,361 yards and running for 515 yards and seven scores. 1985 was not a success for Young or the Express ( 6 touchdowns, 13 int's.).
John Reaves
After putting his drug problems behind him, quarterback John Reaves became the leader of the Tampa Bay Bandits' explosive offense . After a so-so 1983 plagued by injuries, he broke out in 1984. Under Steve Spurrier, he threw for at least 4,000 yards and 25 TD's in his other two years in the league. His prime targets included Eric Truvillion, Larry Brodsky, and tight end Marvin Harvey.
Kelvin Bryant
Bryant was the center of the Stars' offense. He had at least 1,200 yards in all three of his USFL seasons, including 1,442 in 1983 and 1,406 in 1984 ( both totals led the league). He scored a total of 41 rushing touchdowns in his USFL career. Afterwords, he wound up with the NFL's Washington Redskins and helped them win a Super Bowl in 1987.
Ricky Sanders
One of Jim Kelly's prime targets in the run-and-shoot offense, Sanders, one of the Mouseketeer caught 101 passes in 1984, gained 1,378 yards and scored 11 times. He had an excellent NFL career with the Redskins ( where he won two Super Bowls ) and Atlanta Falcons.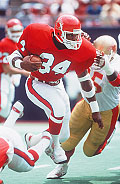 Herschel Walker
Perhaps the USFL's biggest star, Herschel turned down a contract from the Dallas Cowboys out of college and joined the New Jersey Generals. In his three-year USFL career, he had 1,812 yards, 1,339 yards, and 2,411 yards and totals of 17, 16, and 21 touchdowns. His 2,411 yard, 21 touchdown, 5.5 average performance in 1985 ranks among the best seasons by a pro running back.
Luther Bradley
The former Detroit Lion was one of the USFL's best defensive backs. In 1983, he led the USFL with 12 interceptions for Chicago, including an unprecedented g in one game ! The next year, he was shiped off to the Wranglers and added 4 more picks, then signed with Houston and had another huge year. He stole 12 passes again and scored his second USFL touchdown.
Bobby Hebert
Hebert had a good USFL career, leading the Panthers to successful seasons in 1983 and 1984. He had over 3,500 yards and totals of 27 and 24 TD's in his two Panther years. In 1985, Michigan merged with the Oakland Invaders and Hebert had his finest season. He totaled 3,811 yards and 30 touchdowns and took the Invaders to within four points of capturing the championship. After the league folded, he joined the Saints and guided them to their first playoff appearance.
Chuck Clanton
Clanton was a standout defensive back for the Birmingham Stallions in 1984 and 1985 who turned defense into offense. He stormed ont othe scene in '84, intercepting 10 passes to pace the team along with 249 return yards and a trio of scores. He was even better in 1985, with a whopping 16 picks and another TD.
Sam Mills
Although labeled as too small, "Slammin' Sam" became the leader of Jim Mora's "Doghouse Defense" at inside linebacker for the Stars.. He totaled three interceptions in each of his three years in the league and was one of the USFL's hardest hitters. After the USFL ended, he re-joined Jim Mora on the New Orleans Saints and then joined the expansion Carolina Panthers.
Mike Rozier
The former Nebraska star kicked off his pro career with the Pittsburgh Maulers in 1984. However, he struggled behind a poor offensive line and gained just 792 yards. After the Pittsburgh franchise folded, the Bulls picked him up and he flourished, gaining 1,361 yards and 12 scores. He played with the Falocns and Oilers of the NFL, adding another 1,000-yard season there.
Gary Anderson
Anderson was in the USFL all three years with the Tampa Bay Bandits. After slow rookie year, he broke the thousand-yard barrier in 1984 and added 19 touchdowns. He was just as good in 1985, with 16 touchdowns and 1,207 yards. He was also a receiving threat, catching 66 passes in '84 and 72 in '85 to lead the team.
Reggie White
Before he became the NFL's all-time sack leader, Reggie White was terrorizing quarterbacks for the Memphis Showboats. He led the 'Boats in sacks in both of his seasons, with 12 and 11.5. He set the record for sacks in a Super Bowl, by dropping Drew Bledsoe three times in 1997. He played for Philadelphia, Green Bay, and Carolina.
Fred Besana
Was the leader of the Oakland Invaders from 1983 to '84, throwing for 3,980 yards and 21 TD's in '83 and 2,792 yards and 14 scores in '84. In 1985, the Invaders merged with the Panthers and Besana found him self playing behind Bobby Hebert, but the team did make it to the championship.
Jim Smith
After winning a couple Super Bowl rings with the Steelers but sitting on the bench most of the time, Jimmy Smith took center stage in the USFL. After a good '83 season with 756 yards and three scores, he came into his own. He caught 89 balls for a USFL-best 1,481 yards and eight touchdowns for the Stallions in 1984. He was just as good in '85, with an outstanding 20 touchdowns.
Tim Spencer
Big Tim Spencer was a good blocker and runner for the Blitz, Wranglers, and Showboats. He topped 1,000 yards in 1983 and 1984 and scored 19 total touchdowns in 1984. He played several seasons in the NFL for the Chargers.
Eric Truvillion
Was a productive receiver for the Bandits for three years, picking up 1,080 yards and 15 touchdowns in his rookie year. He had more success next year, with 1,044 yards and nine scores in 1984. E.T. was one of quarterback John Reaves' favorite targets.
Cliff Stoudt
QB Cliff Stoudt was the leader of the successful Birmingham Stallions in 1984 and 1985. In 1984, he passed for over 3,000 yards and threw 26 touchdowns and just seven interceptions. He was just as strong in '85, with 34 TD's and 3,358 yards through the air. The Stallions went to the playoffs in both of their two seasons with Stoudt at the helm.
Anthony Carter
Carter had a big rookie season for the Panthers, grabbing 60 passes for 1,181 yards and nine TD's. His 1984 season was cut short by an arm injury, but he bounced back well with the Invaders in 1985. He gained over 1,300 yards on 70 receptions, resulting in 14 touchdowns. Afterwords, he put together a good NFL career with the Vikings and Lions.
Bart Oates
Oates played center for the Philadelphia/Baltimore Stars for three seasons, winning two championships over that time. He helped block for the Stars' potent offense, which featured Kelvin Bryant and quarterback Chick Fusina. He later won a couple of Super Bowls with the New York Giants
Gary Zimmerman
Another strong offensive lineman in the USFL, Gary was named to the Sporting News USFL All-Star team in 1984 and 1985. He helped protect Steve Young. After he joining the NFL, he made several Pro Bowls and won the Super Bowl twice.
Kit Lathrop
Kit was a perannial all-pro selection at defensive tackle and defensive end for the Blitz, Wranglers, and Outlaws. He recorded 8 quarterbacks in 1983 and '85 and a career-high 13 for Arizona in 1984. Aside from being a strong pass rusher, he was also adept at stopping the run. Captured the league's outstanding lineman award in the two years it was given.
Pete Catan
After playing for the CFL's Winnipeg Blue Bombers, Catan joined the USFL's Houston Gamblers and became a strong pass-rushing threat. He led the team with 16 QB sacks in 1984 and added 11 more in '85.he made the USFL all-pro team's first team in 1984 and its second team in 1985.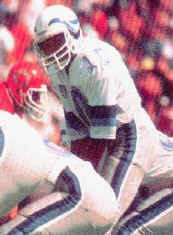 Johnnie Walton
The veteran leader of the Breakers, Walton had two productive years in the USFL. He threw for 3,772 yards and 20 touchdowns in 1983 for the Boston team. In 1984, the Breakers franchise moved to New Orleans, but Walton was just as effective, with 3,554 yards and 17 scores. He wound up retiring after that season.
Doug Williams
Williams posted two strong seasons for the Bandits at quarterback. After a 3,000-yard season in 1984, he threw for 3,673 yards and 21 touchdowns in 1985. He was the MVP of Super Bowl XXII for the Redskins.
Mike Lush
Was an outstanding defensive back for the two-time USFL champion Stars. His interception total increased each year, from six in 1983, to seven in 1984, to ten in '84. He scored his first touchdown in 1985, too.
Kent Hull
The center began his outstanding pro football career with the New Jersey Generals, opening holes for star runners Maurice Carthon and Herschel Walker. He started four Super Bowls for the Buffalo Bills and is regarded as one of the best shotgun snappers of all-time.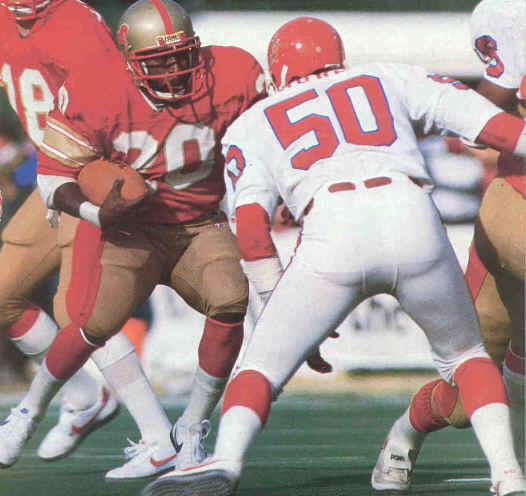 Joe Cribbs
Following several successful seasons with the Buffalo Bills, Cribbs joined the Birmingham Stallions in 1984 and rushed for 1,467 yards in his first season. He had another successful season in 1985, gaining 1,047 yards. In both his seasons, the Stallions made it to the semifinals. Following his USFL days, he returned to the Bills, then played with the 49ers and Dolphins.
John Corker
Corker spent three in the USFL with the Michigan Panthers and Memphis Showboats at linebacker. He was an integral part of the Panthers' 1983, which won the USFL championship. His 28 quarterback sacks led the league, 13 more than the person in second place. He added eight more in 1984 and 5.5 in 1985 with the Showboats. He also had four career interceptions.
Irv Eatman
Irv made the USFL's all-pro squad at offensive tackle in each of its three seasons. Along with fellow all-pro Bart Oates, he helped open holes for Kelvin Bryant and other Star runers. He was the league's Man of the Year for 1984. Had a good NFL career with the Jets, Chiefs and Rams.
Kevin Long
After several seasons with th New York Jets, Long joined the USFL's Chicago Blitz and rushed for 1,022 yards and 12 touchdowns. Along with most of the Chicago players, he was shipped off to Arizona in 1984, but posted another thousand-yard year with 15 scores.Finished off his USFL career with the Outlaws in 1985.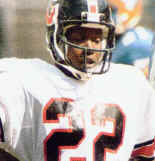 Richard Johnson
The best of the Mouseketeers receiving corps, he set a USFL record with 115 receptions in 1984 for 1,455 yards and 15 scores in Jim Kelly's offense. He was just as good in '85 with 103 more catches for 1,384 yards and 14 touchdowns. Played in the NFL with Washington and Detroit.
Trumaine Johnson
Johnson was an outstanding player at wide receiver for the Blitz and Wranglers. He caught 81 balls in 1983 for 1,322 yards and ten scores in 1983, to make the Sporting News All-USFL team. In 1984, his yardage total decreased, but he caught 90 passes and scored 13 times, good enough to make the all-star team again.
My All-USFL Team
Offense
QB Jim Kelly, Gamblers
RB Herschel Walker, Generals
RB Kelvin Bryant, Stars
WR Richard Johnson, Gamblers
WR Jim Smith, Stallions
TE Dan Ross, Breakers
C Kent Hull, New Jersey
G Gary Zimmerman, Express
G Buddy Aydelette, Stallions
T Irv Eatman, Stars
T Ray Pinney, Panthers/Invaders
Defense
DE Pete Catan, Gamblers
DE Reggie White, Showboats
DT Kit Lathrop, Blitz/Wranglers/Gamblers
DT Fred Nordgren, Bandits
LB John Corker, Panthers/Showboats
LB Sam Mills, Stars
LB Kiki DeAyala, Gamblers
CB Chuck Clanton, Stallions
CB David Martin, Gold/Wranglers
S Luther Bradley, Blitz/Wranglers/Gamblers.
S Mike Lush, Stars
Special Teams
K David Trout, Stars
P Stan Talley, Invaders
KR Clarence Verdin, Gamblers
PR Gerald McNeil, Gamblers
Coaching Staff

HC Jim Mora, Stars
AC Jack Pardee, Gamblers
AC Steve Spurrier, Bandits
Yearly USFL Award Winners
1983 1984 1985
MVP Kelvin Bryant Jim Kelly Herschel Walker
Defensive Player John Corker Marcus Quinn ------
of the Year
Coach of Year Dick Coury Jim Mora Rollie Dotsch
Man of Year Raymond Chester Irv Eatman Reggie White
Outstanding QB Bobby Hebert Chuck Fusina ------
Outstanding Kit Lathrop Kit Lathrop ------
Lineman
Outstanding Stan Talley Zenon Clarence Verdin
Special Teamer Andrusyshyn
USFLers Who Are Still in the NFL
Player USFL Team NFL Teams
Sean Landeta Stars Giants, Rams, Bucs, Packers,
Punter Eagles, Rams
Doug Flutie Generals Bears, Patriots, Bills, Chargers
Quarterback