Tennessee Titans 17
Miami Dolphins 7
What Happened: The first half was very, very sloppy. The Titans put together the game's first decent drive, but it was spoiled when Aaron Elling missed a short FG. But while both offenses stalled, Tennessee was able to move the ball in spurts while the Dolphins couldn't really move it at all. Jay Fiedler looked awful and threw 2 Int's in the first half. The second one, by Andre Dyson, set up a one-yard TD catch by Erron Kinney. A.J. Feeley relieved Fiedler in the second half and the offense started to click on their first possession of the 2nd half. However, Olindo Mare missed a 46-yarder and the score was still 7-0. Late in the 3rd quarter, Feeley made his only mistake of the game- an interception by Leonard Thompson that was returned for a 37-yard TD. The Titans got a FG on their next possession and made it 17-0. Against the Titans' prevent defense, Feeley drove the team downfield and got the Dolphins their first TD- a 15-yard catch by Randy McMichael. The Dolphins recovered the ensuing onside kick, but it was negated by an offsides penalty, killing Miami's slim chance for victory.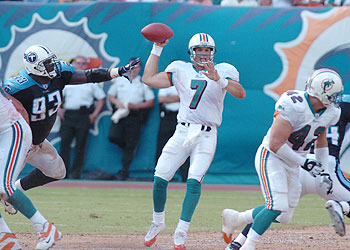 News 'n Notes: Much of the blame for this loss can but put on Wannstedt's shoulders because he made an obvious error by starting Fiedler at QB instead of Feeley at QB...Feeley looked good except for the INT and he'll start next week at Cincy ( and hopefully the rest of the way ) ... the running game was just awful; the only way they can start controlling the ball on the ground is if they settle on RB as their #1 guy so he can have a chance to get in rythym... I think the team should improve over this first game, but it is safe to say there will be no playoffs in Miami for a 3rd straight year.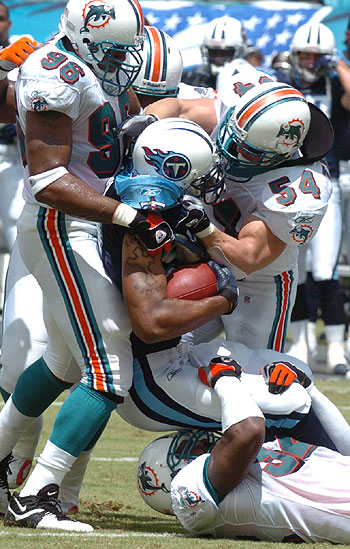 Three Star Selection
1. Chris Brown, Ten: 16 car, 100 yds, 1 rec, 5 yds
2. Randy McMichael, Mia: 8 rec, 79 yds, TD
3. Keith Bulluck, Ten: 6 tackles, 3 assists
Losers of the Game
Jay Fiedler- QB rating of 8, need I say more?
Dave Wannstedt
Lamar Gordon- 12 carries, only 32 yards, Dolphins' ground game showed no consistency.
Prediction For Next Week: Bengals 24, Dolphins 20